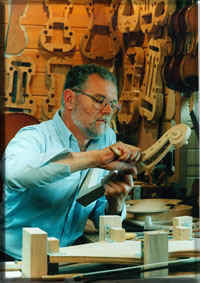 Awards
Tom has received numerous awards and recognition for his Violins, Violas, Cellos, and String Quartets, including the following:
VMAAI Competitions
Tom has won either a gold or silver in each catagory of instruments that he makes: violin, viola, cello, and quartet
| | |
| --- | --- |
| 10 Gold | |
| 10 Silver | |
| Numerous certificates of merit | |
Tom Deluca was born in Detroit, Michigan of Italian parents who immigrated through Canada to the United States. He worked as a cartographer as well as a tool and die designer in the automotive industry before receiving his M.A. degree from University of Detroit.

After a youthful "career" with the accordion and mandolin, at the age of 20, DeLuca put $20 on the pawn shop counter and asked for a violin. That's how it began.

With his skill in design and woodworking and his love for the violin, it was inevitable that he would turn to a career in violin making. He apprenticed five years with Master Violin maker Benjamin F. Harrison of Berkley, Michigan who had won numerous awards at the Violin Makers Association of Arizona, International.

The unique feature in this apprenticeship was that Mr. Harrison was totally deaf having lost his hearing in World War II. Prior to that he was an excellent musician. DeLuca was taught to "tune" the various parts of the violin using a tuning fork on the wood and feeling the vibrations through his fingertips. His instruments have proven themselves by the numerous awards he has won at the VMAAI as well as the satisfaction of his clients.

DeLuca is a founding member of the Michigan Violin Makers Association and is past-president of the VMAAI. DeLuca's wife Kay is of immeasurable value in the final stages of tone adjustment. She is an accomplished violinist and violist.She has had invaluable experience as a teacher, orchestral musician serving in many leadership positions on both the violin and viola, and is an avid chamber musician. Currently she has a private studio and is an active free lance musician.

_____________________

From "Violin Maker Carves a Niche," Detroit News, 1998:

There are companies that can make the instruments cheaper and quicker than DeLuca, but he relishes being able to create something that has his individual mark on it.